Promoting biodiversity is at the core of UPM's 2030 environmental focus areas. We want to promote diversity by minimising the effects of operations on forests, waterways, and local nature. As part of our water biodiversity work, we have adopted a new stream water programme that aims to release or restore 500 km of stream waters by 2030. The migratory fish programme launched by UPM in 2016 will be integrated into the stream water programme.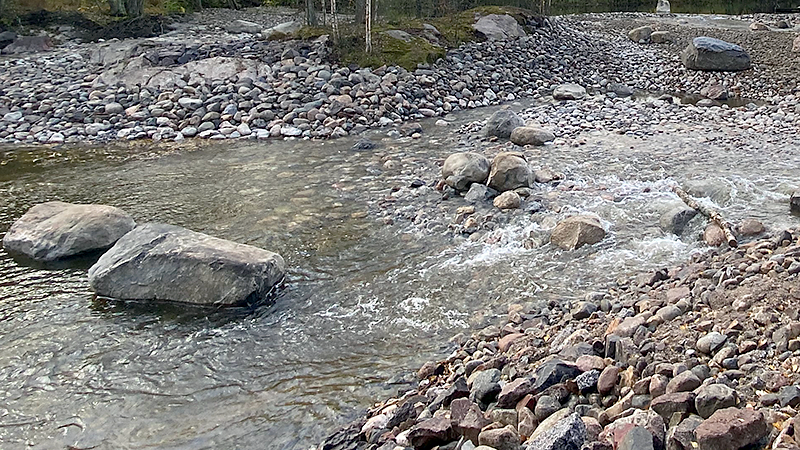 "Our stream water programme promotes biodiversity through the removal of migratory barriers such as defunct dams and the replacement of old culverts with new ones, as well as by restoring rapids and streams to their natural state. We are also participating in pilot and research projects in cooperation with local expert organisations, companies, and local centres of economic development," says environmental manager Mikael Rytkönen.
The biodiversity of inland waters not only concerns migratory fish, but also entails the restoration of the habitats of other endangered species such as green club-tailed dragonfly, freshwater pearl mussel and thick shelled river mussel. Stream waters form a crucial bridge between different habitats, which is why free-flowing water is important for the vitality of stream water ecosystems.
Two projects forming part of the programme (the Sapsokoski and Arvajankoski rapids) were completed in the autumn of 2022. At both sites, old dams were dismantled, and the rapids were restored, freeing up stream water routes and offering new spawning areas for migratory fish.
The verification and monitoring of released and restored stream waters as part of UPM's programme is based on the Finnish Environment Institute's (SYKE) geospatial data. The baseline year for our 500 km goal is 2015. The EU's goal is to unblock 25,000 kilometres of river water in total, but the calculation method has yet to be determined.
We are continuously on the lookout for new sites to include in our stream water programme. Our primary restoration sites are in areas owned by UPM or close to UPM's hydropower plants.
FACTS:
There are approximately 220 hydropower plants and connected dams in Finland.
All in all, there are up to 5,000 structures listed as dams along river routes.
The total number of road culverts is estimated to be around 90,000, of which 30% are estimated to be stream water barriers.
An estimated 5% of Finland's threatened species are native to inland waters.
Source: SYKE
For further information please contact:
Mikael Rytkönen, Environmental Manager, UPM Energy, tel. +358 40 826 3636
Tuomas Kara, Environmental Manager, UPM Forest, tel. +358 40 578 2551
UPM, Media Relations
Mon-Fri 9:00-16:00 EET
tel. +358 40 588 3284
media@upm.com
UPM
We deliver renewable and responsible solutions and innovate for a future beyond fossils across six business areas: UPM Fibres, UPM Energy, UPM Raflatac, UPM Specialty Papers, UPM Communication Papers and UPM Plywood. As the industry leader in responsibility, we are committed to the UN Business Ambition for 1.5°C and the science-based targets to mitigate climate change. We employ 17,000 people worldwide and our annual sales are approximately EUR 9.8 billion. Our shares are listed on Nasdaq Helsinki Ltd. UPM Biofore – Beyond fossils. www.upm.com
Follow UPM on Twitter | LinkedIn | Facebook | YouTube | Instagram | #UPM #biofore #beyondfossils